Rent a meeting room at Anthill Space
To hold a meet-up at the highest level, all members should feel comfortable. That's why renting a meeting room in Kyiv is not a waste but an investment in your future success. It's not only cost-effective but also professional. With us, you can rest easy knowing that nothing can spoil your event.

The benefits of renting a meeting room in Kyiv at Anthill Space include: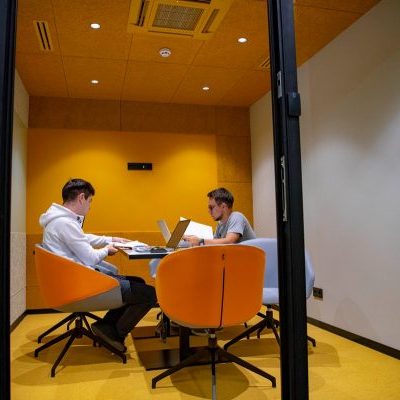 Convenient space in a modern coworking
A place for negotiations should be cozy. We know how important it is for business people. Anthill Space is about impressive interior, color harmony, comfortable furniture, and flawless cleanliness. Once you're at our place, you'll find out how inspiring the working atmosphere should be.

More than an affordable price
If you don't need a place for daily use, an hourly meeting room rent at Anthill Space is the best option. Our rates suit all budgets:

$10 per hour for a meeting room for 4 people

$12 per hour for a meeting room for 6 people

$15 per hour for a meeting room for 10 people

There is no denying that it's much cheaper than renting a flat or a whole office. Besides, we have special deals and bonuses for permanent residents.
Take care of the question 'Where can I hold a meeting?' in advance
As a freelancer, you're not tied to office hours, go all out on tasks that are only your cup of tea, and your holidays don't depend on the labor code. However, no matter what you deal with, from time to time, you need to meet other project members or clients. If you still have no appropriate place for this purpose, you have to think of renting a meeting room in Kyiv at Anthill Space.
We're located on the right bank of Dnipro river
You can rent a meeting room in Kyiv basing on your business partners' preferences. However, there are some obvious criteria you should follow choosing the best options for you. First and foremost, a meeting room should be located in the central part of a city not far from a metro station to make sure your employees and partners can reach it with ease. Renting our smart space, you can rest assured that your expectations will be surpassed.
Technical supplies
Preparation to negotiations is as essential as a place they're held in. Even such trifles as stationery and a screen for watching a presentation play an important role. Fortunately, here at Anthill Space, we have everything you might need to hold a meeting at the highest level (screens, web-cameras, flipcharts, pens, markers, and many others).
Now renting a room for a meeting is as easy as pie
Anthill Space ‒ is the most technically advanced coworking in the capital. Here, you can not only rent a meeting room for a few hours but also stay longer. We offer different tariffs depending on the type of premise, number of people, and other factors. Which one catches your fancy best?
Talented web developers, designers, marketing managers, and start-uppers work in our office with pleasure. Join these creative people and turn your brilliant ideas into reality!
Rent your best meeting room today.