State-of-the-art conference room at Anthill Space
Today, more and more companies take care of forging professional relationships, striving to hold a lot of workshops and presentations for developing their career. To organize your event at the highest level, it is essential to decide on a place that complies with all the technical demands and standards. If you're about to throw a significant event, an auditorium for rent in Kyiv at the smart space Anthill Space will be your best pick.
Conference room prices
Depending on the type of your event, you can choose a convenient seating chart:
round table

theatre

classroom

rectangular

T-shape

free

A hall is equipped with a powerful air ventilation and recuperation system that ensures constant oxygen supply to a room. Now, your auditory won't get tired quickly during a lecture.
More than just a conference room for rent
One of the key factors you need to take into account when renting a place is its location. Fortunately, in a case with Anthill Space, it will take you up to 10 minutes to reach the office from Beresteyska metro station. It also makes sense to mention that a price for an auditorium for rent is affordable, so you won't need to pay through the nose.
Excellent technical support
Here at Anthill Space, we are always ready to go the extra mile to make sure your events are held at the highest level. Our conference room is equipped with modern WUXGA-projector NEC for a blur-free image (compatible with Apple AirPlay and Google Chromecast), 4 Sennheiser mics, a broad screen 3×2 m, 4 flip-charts, and 2 Bluetooth clickers. What's more, we have installed 6th generation Wi-Fi that guarantees a high-speed online translation of an event.

Don't worry about catering ‒ we'll arrange it for you
Anthill Space offers its service for ordering dinners so that you can save your precious time. If you want to take a coffee-break, a cake-shop in our coworking space with tasty desserts and snacks is always at your disposal. What is more, you gain access to the kitchen in the office zone with free hot drinks and cookies.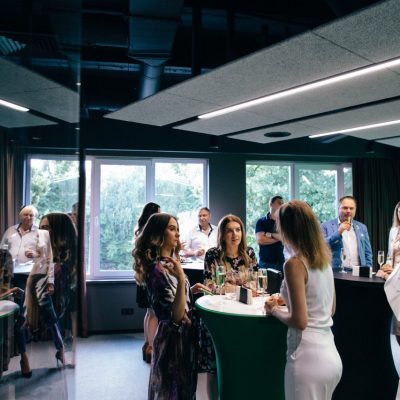 Additional service for your convenience
Our receptionists meet the event members and assist them with all their questions. What is more, there are dressing rooms and lounge-zones at Anthill Space, which are available for conferences which amount to more than 50 people. Exchange your impressions about the event in a cozy place!

Conference hall for rent by the hour at the coworking Anthill Space
We realize that all the events are different and may take from several hours to a full day, especially if the topics are broad and lectors always have something to add and what to discuss with an auditorium. At Anthill Space, you can rent an auditorium for as many hours as you wish.

An individual approach to every client, quality service at affordable prices, ample technical facilities as well as a hand-picked team of professionals make Anthill Space a unique company in its range.
If you're interested in renting our conference-room, leave your details on our website, and we'll get back to you for time clearance and all the details confirmation.